Calendar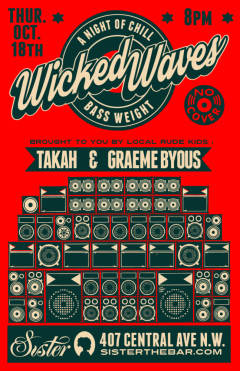 21+ Ages
Thursday, October 18th 8:00pm
Wicked Waves
Wicked Waves showcases sub genres of dubstep & bass music that are lurking in the shadows. Takah navigates through sub-genres of dubstep and bass music with elements of Dub, Lush Darkness, and Brooding Ambience. Bonus: we will be showing anime fight scenes during the event NO COVER. FREE FUN... more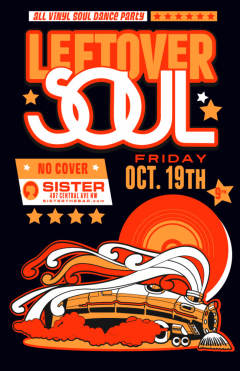 21+ Ages
Friday, October 19th 9:00pm
Leftover Soul - October
Leftover Soul is a vinyl only soul night happening in Albuquerque! DJ Leftovers spins the best soul records he can get his hands on and you shake your booty in return. Plus "Soul Train" episodes are projected for your viewing pleasure.
21+ Ages
Saturday, October 20th 5:00pm
Moonstone Anniversary Dance Party feat. Zone Out DJs
Moonstone Pop-Up is turning 3!! Come on down to Sister to help us celebrate! The Zone Out DJs will be spinning disco-ish tunes all night! Put on your favorite outfit, come grab a cocktail, and dance the night away with us! This event is 21+ with No Cover!! Moonstone is a monthly curated lifestyle p... more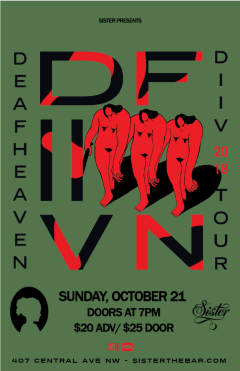 21+ Ages
Sunday, October 21st 8:00pm
Deafheaven & DIIV
w/ ioanna gika
Deafheaven Deafheaven is a California-based act that has garnered acclaim for their signature hybrid sound of black metal, shoegaze, and post-rock. On October 2 the band will release their next album New Bermuda on ANTI-. George Clarke (vocals), Kerry McCoy (guitar), Dan Tracy (drums), Stephen Lee... more
TICKETS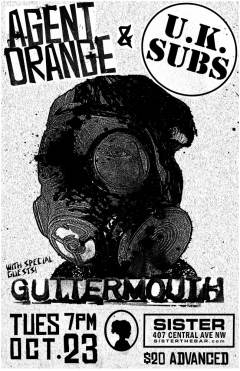 21+ Ages
Tuesday, October 23rd 8:00pm
Agent Orange, U.K. Subs, and Guttermouth at Sister
Guttermouth, U.K. Subs, Agent Orange. All three seminal punk groups will play Sister on Tuesday night, October 23rd. Advance tickets only $20 at sisterthebar.com
TICKETS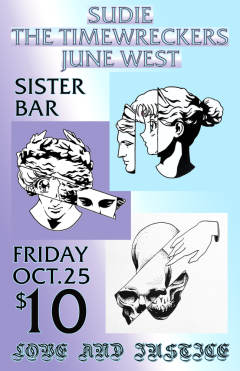 21+ Ages
Friday, October 26th 9:00pm
The Timewreckers, Sudie, and June West
Converge upon the crossroads to celebrate the harvest, the homecoming, and the beautiful dream of Diva glamour. Sudie http://sudiemusic.com/ June West https://www.june-west.com/ The Timewreckers https://timewreckers.bandcamp.com/
TICKETS
| | | |
| --- | --- | --- |
| Door Price | $10.00 | |
| Advance Price | $7.00 | |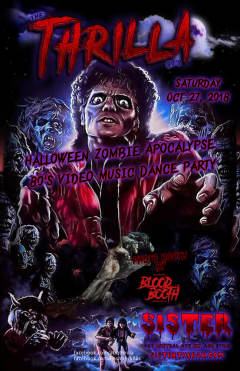 21+ Ages
Saturday, October 27th 9:00pm
The Thrilla 80's Halloween Zombie Apocalypse
Flashback 80's Presents "The Thrilla 80's Halloween, Zombie, Apocalypse" The Party returns for the 4th year in a row !! On Halloween Weekend Saturday, October 27, 2018 An 80's Zombie Bash featuring all your favorite videos and music you love to sing along to. From the decade that bro... more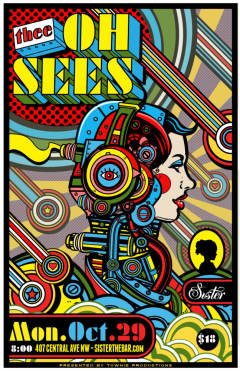 21+ Ages
Monday, October 29th 8:00pm
Oh Sees
with Prettiest Eyes
Thee Oh Sees Psych-punk psychic warrior, ear worm-farmer, and possessor of many stamped passport pages John Dwyer does not let up. His group Oh Sees (aka Thee Oh Sees, OCS, The Oh Sees, etc) have transmogrified to fit many a moment - from hushed druggy folk to groovy demonic pop chants to science f... more
TICKETS
| | | |
| --- | --- | --- |
| Advance Price | $20.00 | |
| Limited Sale Price | $18.00 | |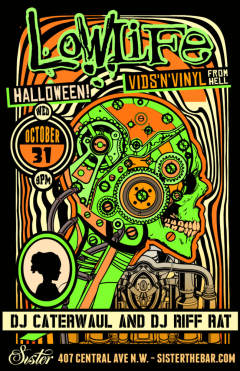 21+ Ages
Wednesday, October 31st 9:00pm
LowLife Vids'n'Vinyl Halloween
All Hallow's Eve gets All Low with LowLife Vids'n'Vinyl. DJs Caterwaul & Riff Rat bring the spooky and the ooky!

21+ Ages
Thursday, November 1st 10:30pm
Toxic Holocaust
Danzig afterparty at Sister
TICKETS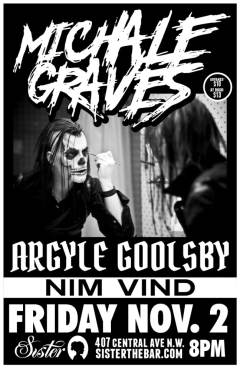 21+ Ages
Friday, November 2nd 9:00pm
Michale Graves (the Misfits)
+ Argyle Goolsby + Nim Vind
Legendary Misfits frontman - Michale Graves - will be performing at Sister in full makeup, performing his solo material as well as misfits classics. With an incredible lineup backing him on stage, this is a must-see event. If you're a fan of any of Michale Graves previous work, whether it be with Th... more
TICKETS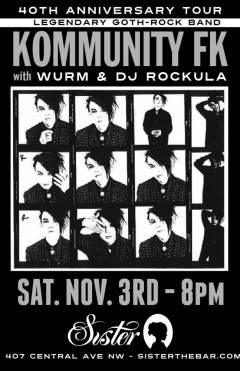 21+ Ages
Saturday, November 3rd 9:00pm
Kommunity FK
with WURM & DJ ROCKULA
TICKETS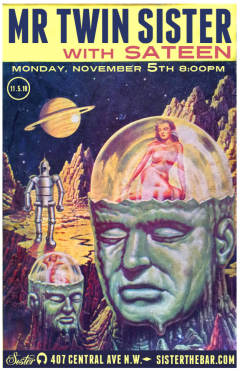 21+ Ages
Monday, November 5th 8:00pm
Mr Twin Sister
with Sateen
Mr Twin Sister After growing up together on Long Island, Mr Twin Sister formed in 2008 under the name Twin Sister, releasing two EPs - Vampires with Dreaming Kids in 2008, and Color Your Life in 2010 - to significant critical acclaim. The band signed to Domino Records for their debut LP In Heaven (... more
TICKETS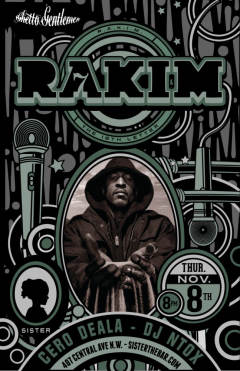 21+ Ages
Thursday, November 8th 8:00pm
RAKIM
with CERO DEALA & DJ NTOX
TICKETS
| | | |
| --- | --- | --- |
| Advance Price | $30.00 | |
| Limited Sale Price | $25.00 | |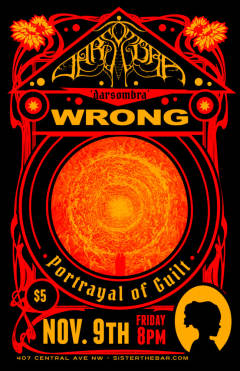 21+ Ages
Friday, November 9th 9:00pm
Darsombra, Wrong, Portrayal of Guilt
TICKETS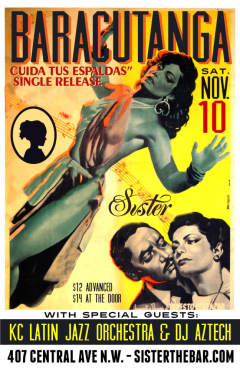 21+ Ages
Saturday, November 10th 9:00pm
Baracutanga - "Cuida tus Espaldas" single release
Baracutanga returns to Sister Bar with a few special guests for an evening of live music and dancing. Baracutanga KC Latin Jazz All-Stars Gabriel Ortega aka DJ Aztech $12 ADV $14 D.O.S. 21+ w/ valid id
TICKETS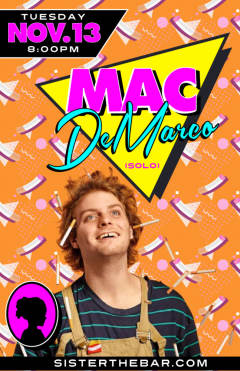 21+ Ages
Tuesday, November 13th 8:00pm
Mac DeMarco (solo) *Sold Out*
Before you ancients out there turn your heads and scoff at the premise of a twenty-something rock-and-roll goofball calling himself an old-anything, consider this: said perpetrator, he who answers to the name Mac DeMarco, has spent the better part of his time thus far writing, recording, and releasi... more
TICKETS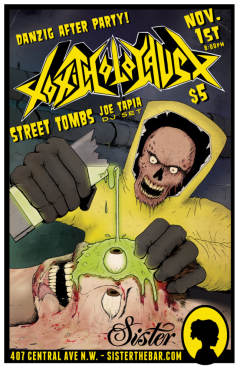 21+ Ages
Wednesday, November 14th 8:00pm
Electric Funeral
with Uncle Chair and Beavis Christ
All vinyl, all loud, all kinds. Electric Funeral is a night of Sludge, Doom, Death, and Black Metal; all on vinyl, curated from the collections of our favorite heshers. No cover No shelter No sniveling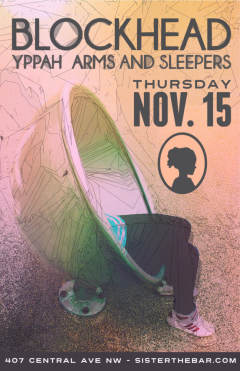 21+ Ages
Thursday, November 15th 9:00pm
Blockhead / Yppah / Arms and Sleepers
BLOCKHEAD // YPPAH // ARMS AND SLEEPERS NORTH AMERICAN TOUR, FALL 2018 ** TICKETS ON SALE 7/6 ** _______________________________________________ The acclaimed NYC producer BLOCKHEAD will team up with Long Beach's YPPAH and Boston's ARMS AND SLEEPERS for a full North American tour this fall. Formerl... more
TICKETS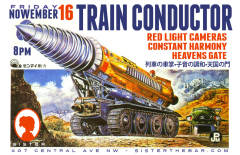 21+ Ages
Friday, November 16th 9:00pm
Train Conductor 10" Release
w/ Red Light Cameras, Constant Harmony & Heavens Gate
Train Conductor will be releasing their new album, "Warm Adobe Brain" on 10" vinyl. https://soundcloud.com/train-conductor/feel-so-cold With support from Constant Harmony http://constantharmony.bandcamp.com/ Heavens Gate Members of Young Lungs and Spice Boys No cover! Come check out the tunes a... more
TICKETS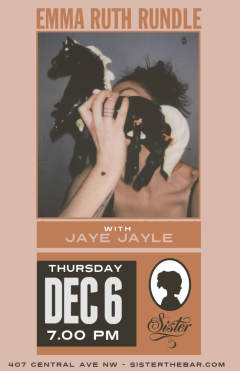 21+ Ages
Thursday, December 6th 8:00pm
Emma Ruth Rundle with Jaye Jayle
special guest William Fowler Collins
TICKETS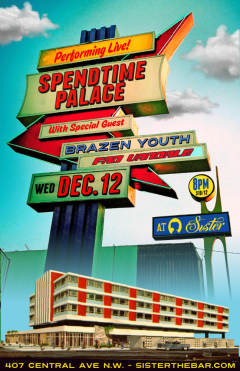 21+ Ages
Wednesday, December 12th 8:00pm
Spendtime Palace // Brazen Youth // Fad Vandals
Spendtime Palace The quintet from Costa Mesa, California started as a fun party trick and now have themselves featured in GQ and Billboard. They're also taking the indie scene by storm and gaining a larger fanbase with each and every unforgettable show. The hype is there, and it's well deserved. Th... more
TICKETS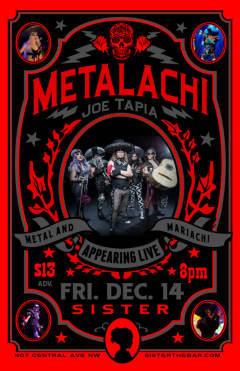 21+ Ages
Friday, December 14th 9:00pm
Metalachi
TICKETS