Calendar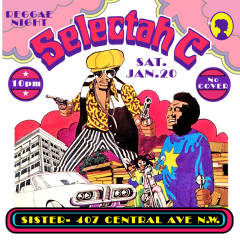 21+ Ages
Saturday, January 20th 2018 10:00pm
Selectah C
open format DJ night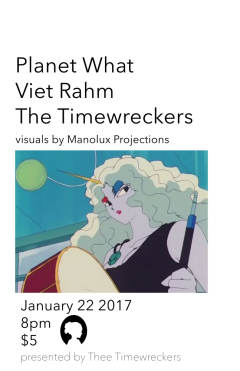 21+ Ages
Monday, January 22nd 2018 8:00pm
Planet What, Viet Rahm, The Timewreckers
Planet What from Tulsa, Oklahoma https://planetwhat.bandcamp.com/ Viet Rahm from Chicago, Illinois https://vietrahm.bandcamp.com/ The Timewreckers from Albuquerque, New Mexico https://www.facebook.com/timewreckers
TICKETS
21+ Ages
Friday, January 26th 2018 4:00pm
Bells Pint Night
Featuring Hopslam and Bourbon Barrel Aged Sour Cherry Stout
Bell's Brewery is blessing up Sister with the only keg in Albuquerque (only 2 in the state) of their Bourbon Barrel Aged Sour Cherry Stout (woah), and their stupendously dank Hopslam. We will also be pouring Bell's Porter Bell's Winter White Oarsman Tart Wheat Ale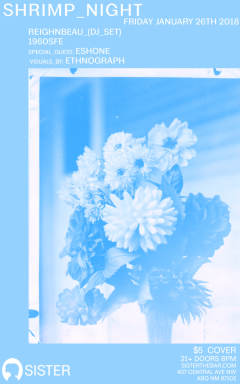 21+ Ages
Friday, January 26th 2018 9:00pm
SHRIMP NIGHT
Reighnbeau_(dj set) & 1960's SciFi Era + special guest: Eshone
visuals by Ethnograph
Shrimp Night returns! Featuring the floor-filling, dance-oriented original tracks, current club music from around the world, baile, electronic, grime, experimental, rap + more from ABQ's own:: REIGHNBEAU (dj set) 1960sfe special guest: EshOne (UK) with visuals by ETHNOGRAPH. bring $5 for the d... more
TICKETS
| | |
| --- | --- |
| Tickets at the Door | $5.00 at the doo |
21+ Ages
Saturday, January 27th 2018 9:00pm
Gothic Winter Ball
The Gothic Winter Ball is a Winter Formal Event for the Goth Industrial club community. The tradition started in 2004 at Pulse Nightclub, and has moved around over the years. This will be the 15th year since we started it. The event is a great excuse to dress up in a special way that the individual ... more
TICKETS
| | |
| --- | --- |
| Tickets at the Door | $15 at the door |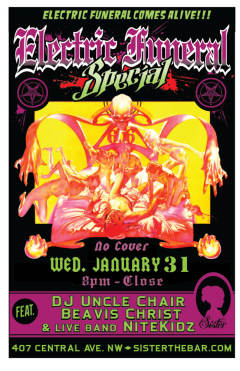 21+ Ages
Wednesday, January 31st 2018 9:00pm
Electric Funeral
DJ's Uncle Chair and Beavis Christ, feat. NiteKidz
Wednesday night, January 31st is the first Electric Funeral night of 2018! Uncle Chair and Beavis Christ spinning gnarly engine of ruin sludge worship. NiteKidz ripping the jams for the crustiest of fams. No Cover No Shelter No Sniveling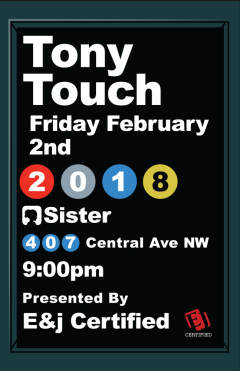 21+ Ages
Friday, February 2nd 2018 9:00pm
Tony Touch presented by E&J Certified
The Legacy Continues. Tony Touch A.K.A Tony Toca continues to be a force to be reckoned with. Tony Touch, an icon in Hip Hop and in the Urban Hispanic genre plus seasoned player in the game, is a true innovator and has revolutionized the DJ game over and over. From his legendary mix tapes, to his sk... more
TICKETS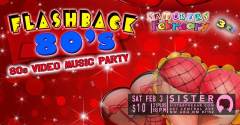 21+ Ages
Saturday, February 3rd 2018 9:00pm
Flashback 80's Music Video Dance Party
Flashback 80's Music Video Dance Party See all your video favorites from the 80's Hosted by "KGB" with DJ Brad Cole Saturday Night February, 3rd 2018 The Flashback 80's Music Video Dance Party returns!! Come dance your rear off to the nonstop 80's party music!! Expect to hear all the greates... more
TICKETS
| | |
| --- | --- |
| Tickets at the Door | $10 at the door |
21+ Ages
Thursday, February 8th 2018 9:00pm
LowLife Vids'n'Vinyl
Come out of your shell! It's DJ Caterwaul & Co., yo yo.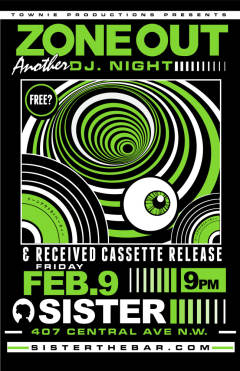 21+ Ages
Friday, February 9th 2018 9:00pm
Zone Out - Another DJ night - feat. Recieved cassette release
Well here you go. Even though you didn't ask for it. Another DJ Night! Featuring those reckless selektas, the Zone Out crew, reaching new musical heights on the wings of kinda questionable decisions. Special cassette release set by deep-house-cats, Received. Get out the zone. Zone Out zone.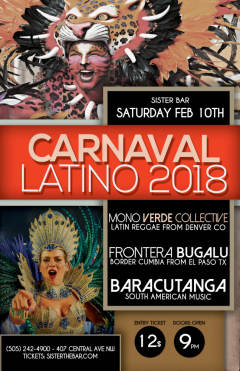 21+ Ages
Saturday, February 10th 2018 8:00pm
¡Carnaval Latino!
Barracutanga, Frontera Bugalu, Mono Verde
TICKETS
21+ Ages
Sunday, February 11th 2018 4:00pm
Moonstone Vintage Lifestyle Pop-Up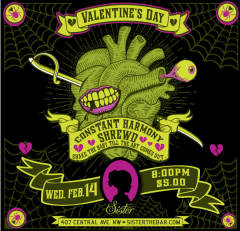 21+ Ages
Wednesday, February 14th 2018 8:00pm
StBTtLCO + SHREWD + Constant Harmony
Join us at Sister this February 14th for some ripping modern and experimental rock music! Shake the Baby Till the Love Comes Out is a duo from Seattle that plays spastic mathy post-punk. Mystical gutter shred. https://www.youtube.com/watch?v=bj_J7C9MscQ Constant Harmony is a trio of Albuquerque s... more
21+ Ages
Thursday, February 15th 2018 9:00pm
Heartbreak Drake Night
No Valentine, No Problem! A tribute to Aubrey Graham, Drake themed party dropping all of his tracks from beginning to end. Drake DJ Set by: Jaque Heartbreak b2b Cody F Baby. $5 Cover
| | |
| --- | --- |
| Tickets at the Door | $5.00 at the doo |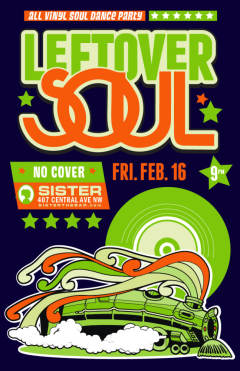 21+ Ages
Friday, February 16th 2018 9:00pm
Leftover Soul
DJ Leftovers bringing the sweet heat
Leftover Soul is a vinyl only soul night happening in Albuquerque! DJ Leftovers spins the best soul records he can get his hands on and you shake your booty in return. Plus "Soul Train" episodes are projected for your viewing pleasure. NO COVER!

21+ Ages
Saturday, February 17th 2018 9:00pm
Doctor Jeep & Fixate at Sister
presented by RudeBehavior
TICKETS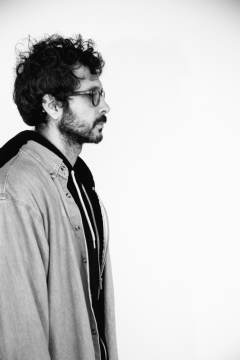 21+ Ages
Monday, February 19th 2018 8:00pm
WHY?
WHY? (Joyful Noise Recordings // Anticon) https://whywithaquestionmark.com/ https://pitchfork.com/reviews/albums/22945-moh-lhean/ The final words sung on the sixth album by WHY? are an apt place to begin: "Hold on, what's going on?" Because while there's much familiar about the oddly named Moh Lh... more
TICKETS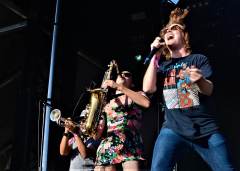 21+ Ages
Tuesday, February 20th 2018 8:00pm
Playboy Manbaby
w/ Cat Teeth
Playboy Manbaby "Playboy Manbay is the breath of fresh air fans of 80's Sitcom Theme Music have been anxiously waiting for." -The New York Times "Playboy Manbaby, bringing sexy back to the genre of polka," -Rolling Stone "Panatonic colorsphere of emotion-shapes in sound form," -Pitchfork "Less ... more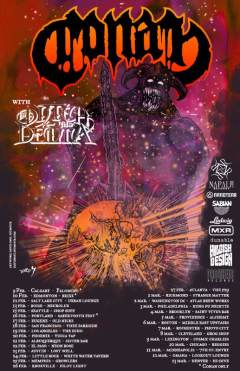 21+ Ages
Wednesday, February 21st 2018 8:00pm
Conan
with The Ditch and the Delta
Conan are as heavy as interplanetary thunder amplified through the roaring black hole anus of Azathoth. Remember that sentence, for it is writ large in virgin blood on the walls of the forgotten temple of Bol-Krastor, deep in the steaming forests of forgotten Lemuria. Conan, a monumentally brutal th... more
TICKETS
| | | |
| --- | --- | --- |
| Advance Ticket Price | $10.00 | |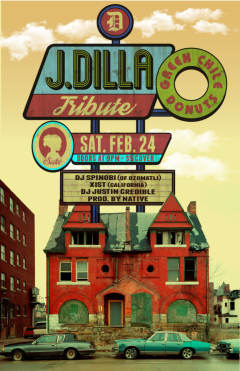 21+ Ages
Saturday, February 24th 2018 9:00pm
Green Chile Donuts: J Dilla tribute
Join us this Saturday February 24th as we pay tribute to legendary Hip Hop producer and rapper, J. Dilla.
| | |
| --- | --- |
| Tickets at the Door | $5 at the door |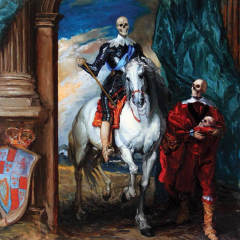 21+ Ages
Friday, March 2nd 2018 8:00pm
APATHY: OFFICIAL CD RELEASE PARTY
CELPH TITLED * NME THE ILLEST
BANDIT LORDZ * DJ SWITCH
Apathy's "The Widow's Son" OFFICIAL CD release party featuring Celph Titled and NME The Illest.
TICKETS
21+ Ages
Saturday, March 3rd 2018 9:00pm
DEAD MEADOW
with Black Unicorn
Dead Meadow combine 70s hard rock and 60s psychedelic rock with far out and sometimes mystically minded lyrical themes occasionally even hinting at the obscure genius H. P. Lovecraft and other far out writers of the bizarre and weird. Black Unicorn is a new Albuquerque band featuring members of Su... more
TICKETS
21+ Ages
Wednesday, March 7th 2018 8:00pm
Red Light Cameras / Jared and the Mill / The Timewreckers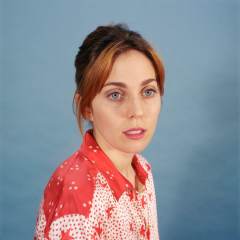 21+ Ages
Sunday, March 11th 2018 8:00pm
U.S. Girls
U.S. Girls (4AD) Opening with a dark, conga-infused drum break, lead-off track 'Velvet For Sale' establishes a moody, distinctly mysterious feel. If Half Free (Remy's 2015 4AD offering) trafficked in dusty, sample-based textures, Poem represents an inversion of that instrumental formula; the ... more
TICKETS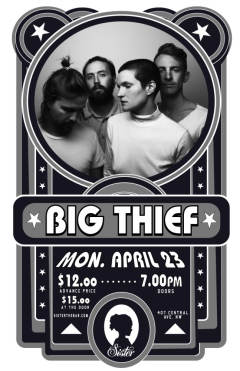 21+ Ages
Monday, April 23rd 2018 8:00pm
Big Thief at Sister
TICKETS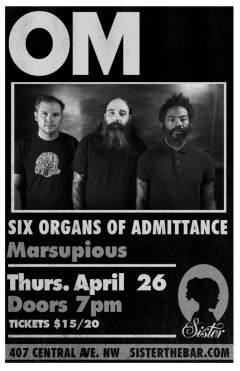 21+ Ages
Thursday, April 26th 2018 8:00pm
OM with Six Organs of Admittance and Marsupious
OM is a trio consisting of Al Cisneros, Emil Amos, and Robert Aiki Aubrey Lowe. Where GOD IS GOOD was the first step in a more ornate and sophisticated direction for OM, ADVAITIC SONGS achieves a level of composition that would've been impossible to foresee. There remains the singularity of purpos... more
TICKETS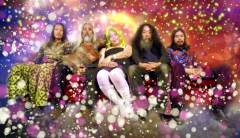 21+ Ages
Wednesday, May 2nd 2018 8:00pm
Acid Mothers Temple
Formed in 1995 by Makoto Kawabata at the same time as the Acid Mothers Temple Soul Collective. The group released its debut album in 1997 on PSF Records (Japan), and it was selected as one of the year's best albums in the The Wire magazine (UK). In 1998 the group played their first tours of the US a... more
TICKETS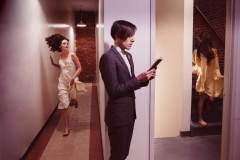 21+ Ages
Monday, May 7th 2018 8:00pm
of Montreal
w/ Locate S,1
Two important events occurred during the making of White Is Relic/Irrealis Mood. I became "Simulated Reality" paranoid and I fell in LOVE. Well a lot more happened during the process of writing and recording, but those are the two big ones. I also reached a healthy point of self-forgiveness for my ... more
TICKETS