Calendar

21+ Ages
Saturday, June 23rd 9:00pm
Hyroglifics (UK)
presented by Rude Behavior
TICKETS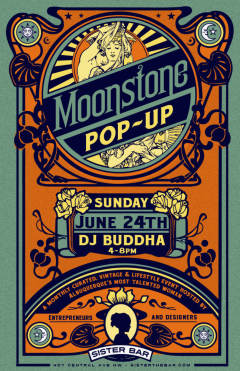 21+ Ages
Sunday, June 24th 4:00pm
Moonstone Pop-Up
21+ Ages
Monday, June 25th 8:00pm
Love-Birds & Slow Motion Cowboys with Bud Melvin and St. Petersburg
TICKETS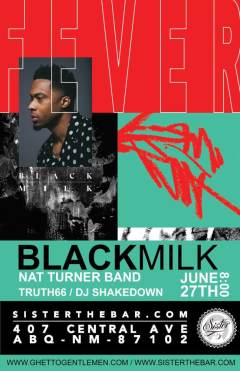 21+ Ages
Wednesday, June 27th 8:00pm
Black Milk and Nat Turner Band
with Truth66 and DJ Shakedown
With more than a decade and a half of industry experience and a rich catalog of recordings, Black Milk has transitioned from one of hip-hop's rising stars to a genre-bending virtuoso with a well-rounded pedigree as a producer, rapper and performer. Acclaimed by outlets such as Pitchfork, Rolling S... more
TICKETS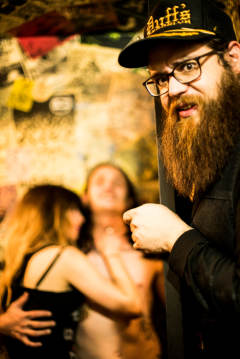 21+ Ages
Thursday, June 28th 8:00pm
Electric Funeral with Funerals, Swords, and Souls
Uncle Chair, Beavis Christ, DJ Caterwaul
It's Electric Funeral time again. Funerals, Swords, and Souls will close the night with a set of their cinematic desert doom metal. Heavy metal on vinyl all night long. No Cover No Shelter No Sniveling
TICKETS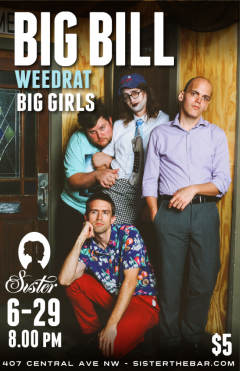 21+ Ages
Friday, June 29th 9:00pm
Big Bill w/ Weedrat and Big Girls
Big Bill is a punk(ish) band made up of brothers Eric and Cody Braden, Alan Lauer, and Alex Riegelman. Influenced by the deadpan irreverence of The Monks and Talking Heads, Big Bill is known for their darkly comic, nervy take on punk rock, fully embracing the "all are welcome" vibe of the early ... more
| | |
| --- | --- |
| Tickets at the Door | $5 at the door |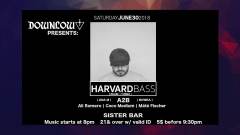 21+ Ages
Saturday, June 30th 9:00pm
Downlow Presents: Harvard Bass
DOWNLOW PRESENTS: Harvard Bass – San Diego | Relief | Turbo | "Mexican­American bad­boy Victor 'Harvard Bass' has always brought together the raw appeal of American booty with the style and function of European Ass. His sound has earned him in­crew­sion in Seth Troxler's Tuskegee pos... more
| | |
| --- | --- |
| Tickets at the Door | $5 before 9:30. |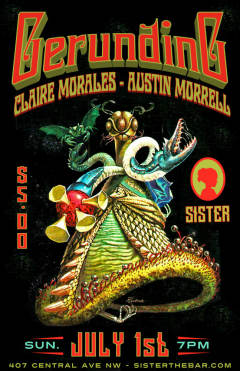 21+ Ages
Sunday, July 1st 8:00pm
Claire Morales, Gerunding, Austin Morrell
TICKETS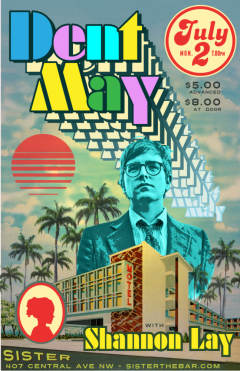 21+ Ages
Monday, July 2nd 8:00pm
Dent May
w/ Shannon Lay
Dent May "Don't wanna move to Southern California / I wasn't really meant for LA…" So sang Dent May once upon a time, now he's eating those words with a side of avocado toast in his new Los Angeles bungalow. What made the lifelong Mississippi boy pull up stakes and head west? "No one l... more
TICKETS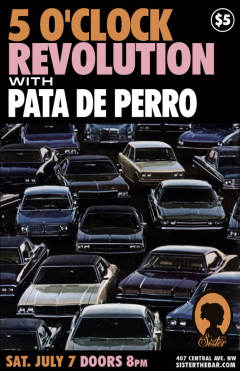 21+ Ages
Saturday, July 7th 9:00pm
5 O'Clock Revolution with Pata De Perro
TICKETS
21+ Ages
Sunday, July 8th 8:00pm
S.M. Wolf, Sheverb, Stereo Test Record, the Timewreckers
Psych and Indie Rock from near and far.
S.M. Wolf from Indianapolis Bandcamp https://smwolf.bandcamp.com/ Sheverb from Austin https://sheverb.bandcamp.com/ The Timewreckers of ABQ https://timewreckers.bandcamp.com/ Stereo Test Record also of ABQ https://stereotestrecord.bandcamp.com/
TICKETS
21+ Ages
Saturday, July 14th 8:00pm
Peanut Butter Wolf at Sister
With Dave 12, Prod by Native, Boogaloo B, and L Chingon
Stones Throw Records founder spinning at Sister!
TICKETS
| | | |
| --- | --- | --- |
| Advance Price | $10.00 | |
| Door Price | $15.00 | |
21+ Ages
Sunday, July 15th 4:00pm
Moonstone Pop-Up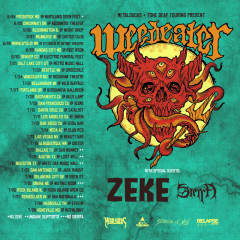 21+ Ages
Wednesday, July 18th 8:00pm
Weedeater
with Zeke and Sierra
Weedeater are a stoner metal band formed in Wilmington, North Carolina in 1998. They have been touring relentlessly and releasing the heaviest swampiest nastiest metal in all the land ever since. Zeke is an American hardcore punk band from Seattle, Washington formed in 1992. They are known for thei... more
TICKETS
| | | |
| --- | --- | --- |
| Door Price | $20.00 | |
| Advance Price | $15.00 | |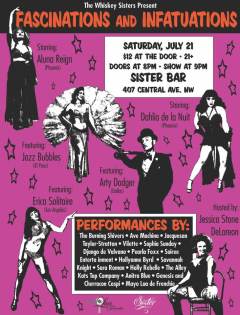 21+ Ages
Saturday, July 21st 8:00pm
The Whiskey Sisters Present: Fascinations and Infatuations
It's time for the Whiskey Sisters to bring out the big summer show! Once again our home venue, Sister Bar, welcomes us back with a kinky, pinup revue curated just for you! Boasting the highest quality burlesque and variety shows in the 505, "Fascinations and Infatuations " may be our best one yet. T... more
TICKETS
21+ Ages
Sunday, July 22nd 8:00pm
Julianna Barwick / Mary Lattimore
Julianna Barwick (Dead Oceans) "Describing this hazy, hallucinogenic album from Brooklyn's Julianna Barwick, you can neatly take Panda Bear's trippier tracks as a jumping off point, as Barwick loops and layers beautiful vocal harmonies with a similar slow-motion deep sea vibe. But this lovely ... more
TICKETS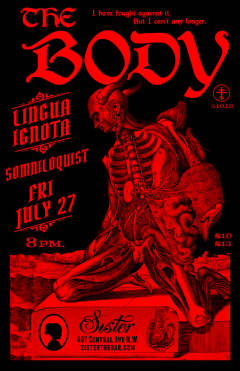 21+ Ages
Friday, July 27th 9:00pm
The Body
Lingua Ignota
TICKETS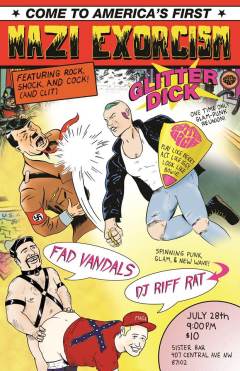 21+ Ages
Saturday, July 28th 8:00pm
Glitter Dick Reunion Show
Fad Vandals, DJ Riff Rat
TICKETS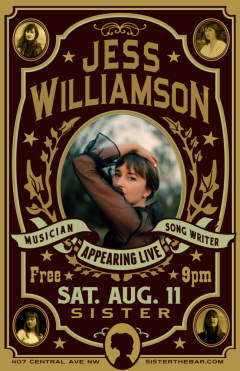 21+ Ages
Saturday, August 11th 9:00pm
Jess Williamson
Jess Williamson The music is appealingly swampy, occasionally static in ways that recalls Amen Dunes and the spectral spin of Alice Coltrane, until Williamson's voice bursts through the circle in an ecstatic push. The songs unfold slowly, but her intimate delivery and the minute explorations of h... more
| | |
| --- | --- |
| Tickets at the Door | $5-10 suggested |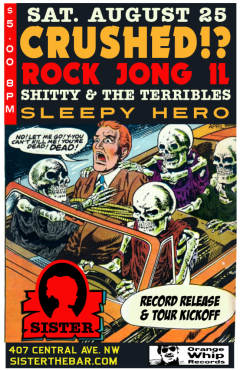 21+ Ages
Saturday, August 25th 9:00pm
Crushed!? Record Release Party and Tour Kickoff
with Rock Jong Il, Shitty & The Terribles and Sleepy Hero
TICKETS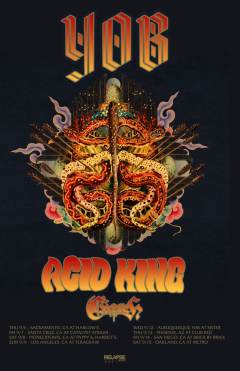 21+ Ages
Wednesday, September 12th 8:00pm
YOB / ACID KING / CHRCH
TICKETS
21+ Ages
Saturday, September 22nd 9:00pm
Quintron & Miss Pussycat
TICKETS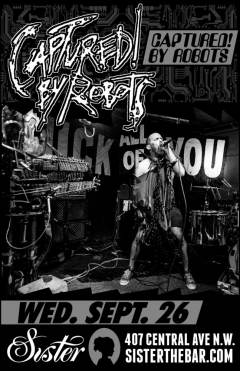 21+ Ages
Wednesday, September 26th 7:00pm
Captured! By Robots
Captured! By Robots is a touring grindcore band with only one human member. The music is all played physically by the 2 robots, GTRBOT666 and DRMBOT0110, and the human slave Jbot. Brutal pummeling music. End of story. local support tba $10 // 21+ // doors open at 7
TICKETS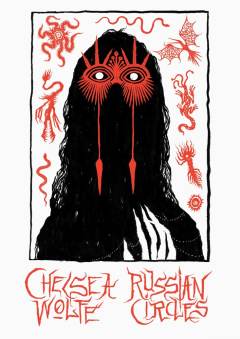 21+ Ages
Sunday, September 30th 8:00pm
Chelsea Wolfe and Russian Circles
TICKETS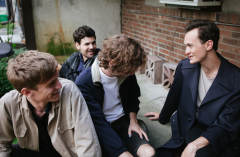 21+ Ages
Thursday, October 4th 8:00pm
Ought
OUGHT On Room Inside the World—Ought's third album and their first for Merge—growing up doesn't mean mellowing out so much as it means learning to pay attention, listening carefully and openly, staying somewhere long enough to really understand where you are. Recorded at Rare Book Room in B... more
TICKETS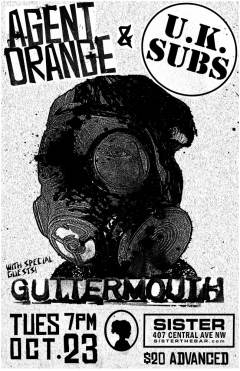 21+ Ages
Tuesday, October 23rd 8:00pm
U.K. Subs, Guttermouth, and Agent Orange at Sister
TICKETS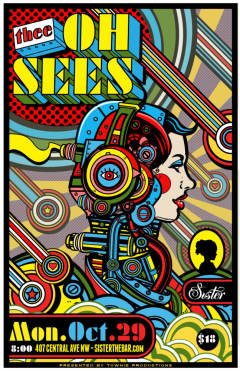 21+ Ages
Monday, October 29th 8:00pm
Oh Sees
with Prettiest Eyes
Oh Sees Psych-punk psychic warrior, ear worm-farmer, and possessor of many stamped passport pages John Dwyer does not let up. His group Oh Sees (aka Thee Oh Sees, OCS, The Oh Sees, etc) have transmogrified to fit many a moment - from hushed druggy folk to groovy demonic pop chants to science fictio... more
TICKETS