Calendar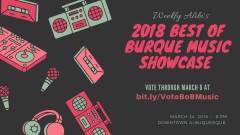 21+ Ages
Saturday, March 24th 9:00pm
Weekly Alibi's 2018 Best of Burque Music Showcase
Weekly Alibi's 2018 Best of Burque Music contest is now open! The second voting round runs through March 6 and will feature high-scoring nominees from round one. Cast your vote here: http://bit.ly/2HYGChZ And the cherry atop the 2018 BOBM sundae is a promotional + award-winning concert cluster on ... more
21+ Ages
Sunday, March 25th 8:00pm
Triathalon (NYC) // Inner Wave (LA) // RECEIVED
Triathalon are a suave five-member band making some very sexy, slow R&B jams for fans of Mild High Club, Jerry Paper, Bane's World & Surfer Blood. Adam Intrator (guitar, vocals), Hunter Jayne (guitar, keys), Chad Chilton (drums), and Lucas Carpenter (bass) have been together since 2013 makin... more
TICKETS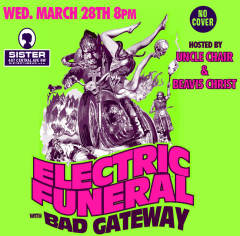 21+ Ages
Wednesday, March 28th 8:00pm
Electric Funeral with Bad Gateway
hosted by Djs Uncle Chair and Beavis Christ
Uncle Chair and Beavis Christ spinning gnarly engine of ruin sludge worship. Featuring the desert-blackened metal of Bad Gateway No Cover No Shelter No Sniveling
21+ Ages
Friday, March 30th 8:00pm
Flava D
presented by Digital Desert
Digital Desert presents- //...Flava D..\\ with direct support from Ghetto Gospel Music [Bowra] & local beat masters Teddy No Name Deja FLAVA D [Butterz] UK On the face of it, the Bournemouth born Flava D's outlook on her career seems pretty simplistic: she likes to make music, constantly.... more
| | |
| --- | --- |
| Tickets at the Door | $12 advance tick |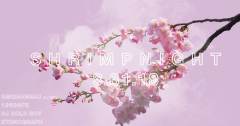 21+ Ages
Saturday, March 31st 9:00pm
SHRIMP NIGHT
Shrimp Night returns! Featuring the floor-filling, dance-oriented original tracks, current club music from around the world, baile, electronic, grime, experimental, rap + more from ABQ's own:: REIGHNBEAU (dj set) 1960sfe special guest: DJ Cold Boy with visuals by ETHNOGRAPH. bring $5 for the do... more
TICKETS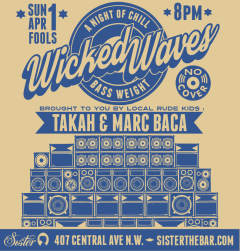 21+ Ages
Sunday, April 1st 8:00pm
Wicked Waves
a night of chill bass weight
Takah and Marc Baca with a one way ticket to chillville on the bass bus.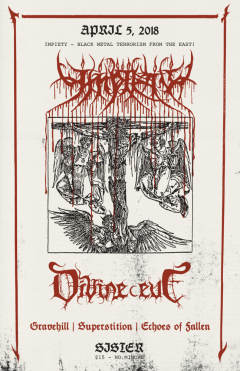 21+ Ages
Thursday, April 5th 8:00pm
Impiety / Divine Eve / Gravehill / Superstition / Echoes of Fallen
an evening of brutal heavy metal
TICKETS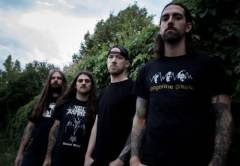 21+ Ages
Friday, April 6th 9:00pm
Spirit Adrift at Siter
with Red Mesa and Witch Hat
TICKETS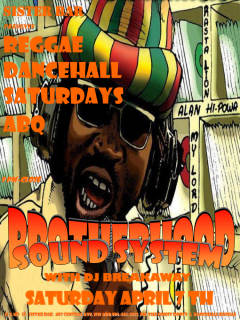 21+ Ages
Saturday, April 7th 9:00pm
Reggae Dancehall Saturday
Brotherhood Soundsystem
Brotherhood sound brings back the sorely missed Reggae Dancehall Saturdays (from the Tin Star era), this time presenting the Albuquerque edition. The hottest reggae sound in the SW for decades teams up with the hottest new venue in the duke city! Tell one & all! Roots & Dancehall Reggae! Sk... more
TICKETS
| | |
| --- | --- |
| Tickets at the Door | $5.00 at the doo |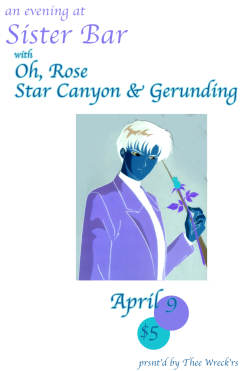 21+ Ages
Monday, April 9th 8:00pm
Oh Rose, Star Canyon, Gerunding
TICKETS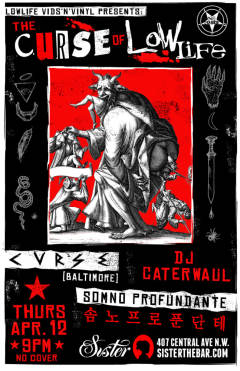 21+ Ages
Thursday, April 12th 9:00pm
LowLife Vids'n'Vinyl
LowLife Vids'n'Vinyl w/DJ Caterwaul, plus live performances by Somno Profundante & Curse (from Baltimore) Dank & Evil is the word.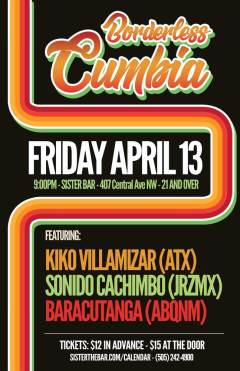 21+ Ages
Friday, April 13th 9:00pm
Borderless Cumbia
with Kiko Villamizar, Sonido Cachimbo, Baracutanga
TICKETS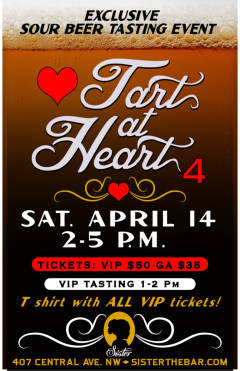 21+ Ages
Saturday, April 14th 1:00pm
Tart at Heart 4
TICKETS
| | | |
| --- | --- | --- |
| General Admission Ticket | $35.00 | |
| VIP TICKET | $50.00 | |
21+ Ages
Saturday, April 14th 9:00pm
Leftover Soul
Leftover Soul returns to Sister, this time in honor of the most special of occasions. It's DJ Leftovers' 40th birthday! He'll be joined by a cast of the most illustrious selectors in Burque spinning only 45s of deep soul, funk, and R&B hits. Come get down and pay your respects to the maestro. No... more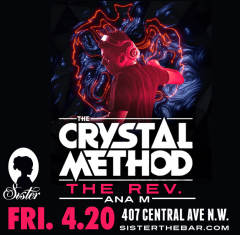 21+ Ages
Friday, April 20th 9:00pm
The Crystal Method
TICKETS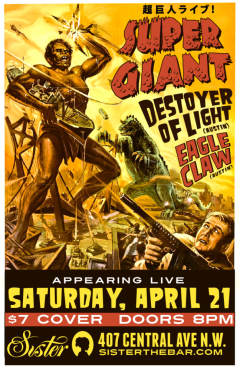 21+ Ages
Saturday, April 21st 9:00pm
Supergiant, Destoyer of Light, Eagle Claw
Local rock band SuperGiant are playing Sister again! This time they've brought their Texan compadre's Destroyer of Light, and Eagle Claw $7
TICKETS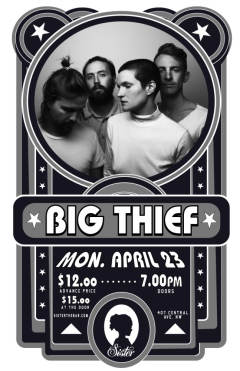 21+ Ages
Monday, April 23rd 8:00pm
Big Thief at Sister
with The Timewreckers and AJ Woods
TICKETS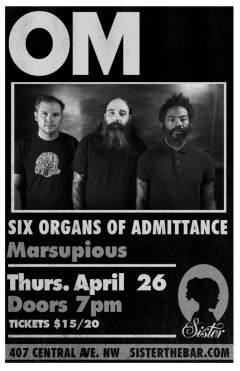 21+ Ages
Thursday, April 26th 8:00pm
OM with Six Organs of Admittance and Marsupious
OM is a trio consisting of Al Cisneros, Emil Amos, and Robert Aiki Aubrey Lowe. Where GOD IS GOOD was the first step in a more ornate and sophisticated direction for OM, ADVAITIC SONGS achieves a level of composition that would've been impossible to foresee. There remains the singularity of purpos... more
TICKETS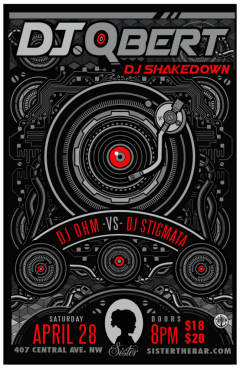 21+ Ages
Saturday, April 28th 9:00pm
DJ Qbert
featuring DJ OHM vs DJ Stigmata
with DJ Shakedown
TICKETS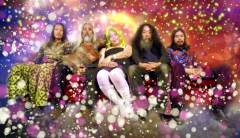 21+ Ages
Wednesday, May 2nd 8:00pm
Acid Mothers Temple
Formed in 1995 by Makoto Kawabata at the same time as the Acid Mothers Temple Soul Collective. The group released its debut album in 1997 on PSF Records (Japan), and it was selected as one of the year's best albums in the The Wire magazine (UK). In 1998 the group played their first tours of the US a... more
TICKETS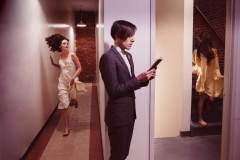 21+ Ages
Monday, May 7th 8:00pm
of Montreal
w/ Locate S,1
Two important events occurred during the making of White Is Relic/Irrealis Mood. I became "Simulated Reality" paranoid and I fell in LOVE. Well a lot more happened during the process of writing and recording, but those are the two big ones. I also reached a healthy point of self-forgiveness for my ... more
TICKETS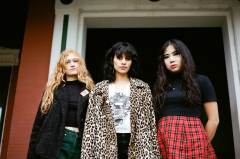 21+ Ages
Wednesday, May 9th 8:00pm
L.A. Witch
L.A. WITCH (Suicide Squeeze Records) In the dimly lit interior of a small nightclub, where the stale smell of a thousand extinguished cigarettes drowns out the smell of spilt beer and broken dreams, a band plays against a backdrop of cheap golden tinsel. Outside, palm trees line the night's horiz... more
TICKETS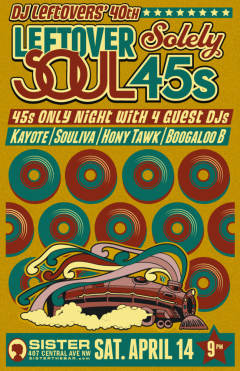 21+ Ages
Friday, May 11th 9:00pm
Leftover Soul
Leftover Soul returns to Sister, this time in honor of the most special of occasions. It's DJ Leftovers' 40th birthday! He'll be joined by a cast of the most illustrious selectors in Burque spinning only 45s of deep soul, funk, and R&B hits. Come get down and pay your respects to the maestro. No... more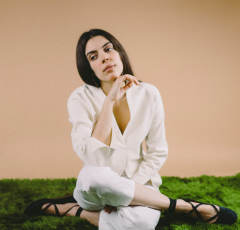 21+ Ages
Monday, May 14th 8:00pm
Julie Byrne / Vagabon
Vagabon Vagabon, the moniker for multi-instrumentalist, Lætitia Tamko, was born in late 2014 during her final years of engineering school. Currently living in New York City via Cameroon, Tamko's cultural duality and engineering background informs her inspirations as a musician and a producer. Ble... more
TICKETS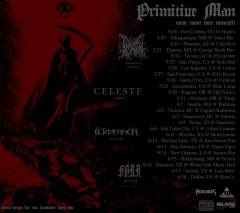 21+ Ages
Sunday, May 20th 8:00pm
Primitive Man and Infernal Coil
Denver's nihilistic trio PRIMITIVE MAN return with Caustic, their second full-length offering of soul-crushing blackened doom and noise-ridden claustrophobia. With lyrical themes ranging from political corruption, personal struggle and the crumbling social climate facing the world today, Caustic s... more
TICKETS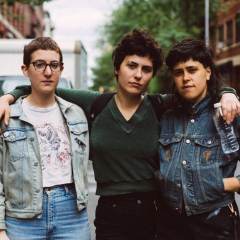 21+ Ages
Monday, May 28th 8:00pm
Palberta and Ten High
TICKETS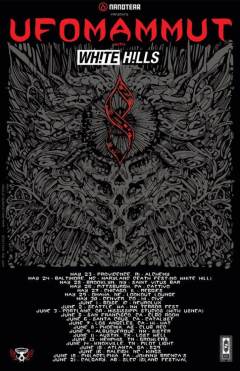 21+ Ages
Saturday, June 9th 9:00pm
Ufomammut with White Hills
TICKETS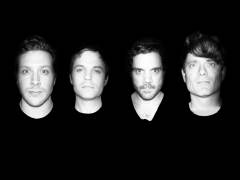 21+ Ages
Monday, October 29th 8:00pm
Oh Sees
presented by Townie Productions
Psych-punk psychic warrior, ear worm-farmer, and possessor of many stamped passport pages John Dwyer does not let up. His group Oh Sees (aka Thee Oh Sees, OCS, The Oh Sees, etc) have transmogrified to fit many a moment - from hushed druggy folk to groovy demonic pop chants to science fictional krau... more